Below is a hand crafted, one-off, aluminum, custom Ford radiator shell including a Bonneville style custom grille insert.  The shell is one-inch narrower than a standard factory pressed Ford 1932 shell for a subtle custom look.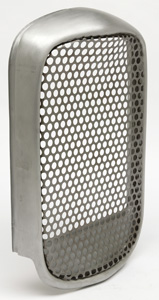 This piece was made for a customer that wanted a restrained change from an original Ford radiator shell, only noticeable to a trained eye.
The outer shell is narrowed one inch from a standard Ford shape, and the grille insert is made from flat 3/4 hole laser cut steel, then hand formed to take the shape of the aperture of the shell.  The custom grill insert also fits into a standard Ford factory pressed shell.

Making the Custom Radiator Shell
I made this radiator shell in four sections: top, two sides, and bottom.  First, I patterned up the original Ford radiator shell, that allowed me to make a hammer form.  The hammer form was created to narrow the shell, but also take the shape of an orginal.  With jig chasing and hand forming techniques and finalizing by smoothing with the English wheel, each radiator shell section was created.
I pieced all four custom sections onto the hammer form and then aluminum tig welded, after tacking all the sections together.  From there, using a smooth file, I filed down the weld and plannished up low spots.  Metal-finishing each area gives it the appearance of being one piece.
The custom grille insert was an idea that I had seen on some other Fords before, and I thought it would add a nice touch to whole custom look.  To compliment the classic style of the radiator shell, we decided to build some custom panel work to match.
The Bonneville style grille insert became an often requested item, and is available to also fit your standard 1932 Ford radiator shell.
For more information on custom Ford parts, check out the series of posts on the making of a custom aluminum dashboard to fit into any 1929 Ford Roadster. Click here for part one on the concept, part two on the jig and fixtures, and part three on the installation.  We also have a 1932 version available.
Other custom Ford work includes an aluminum lengthened hood and sides for a 1931 Ford pickup truck.